20/11 - DATE OF LIFE'S HIGHLIGHTS AWARENESS
English: Cong Danh B2K7
In the atmosphere of all teachers and students welcoming the Teachers 'Day of November 20, THSP Highschool of CTU also held a ceremony to celebrate the Vietnamese Teachers' Day. The god "Respect for the religion" is both traditional, long-standing and meaningful, which has been around for a long time and has been passed down for many generations.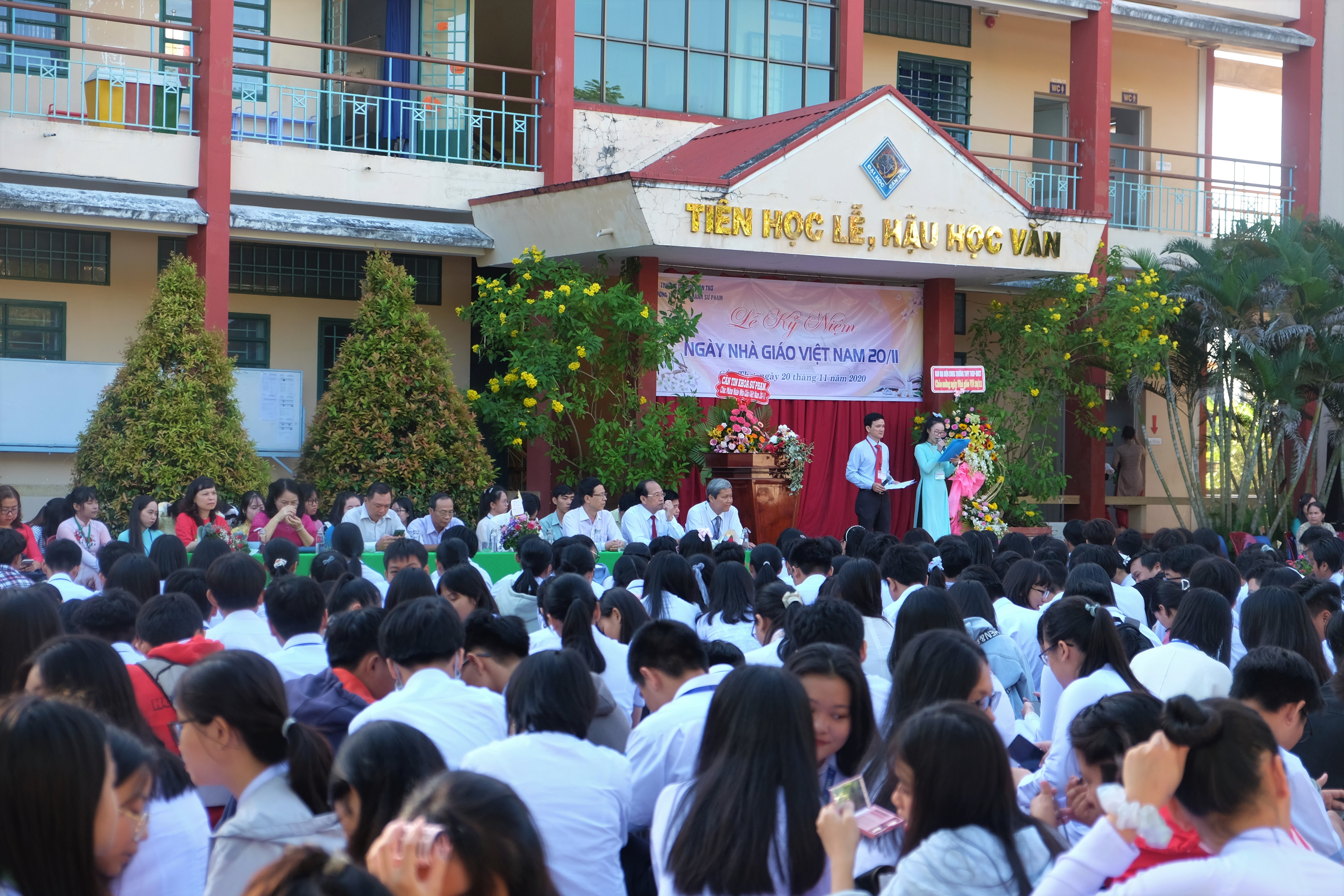 Whole scene of the ceremony
 Attending the ceremony were representatives of the Parents and Students Association, representatives from Can Tho University, Faculty of Education, and the teachers who were former leaders of the Secondary School over the years. On the side of the upper secondary school, there are the school's management board, teachers and all the students, class 7,8,9. Especially, the school also welcomes alumni of classes 2,3,4,5,6 to attend the ceremony of November 20 this year.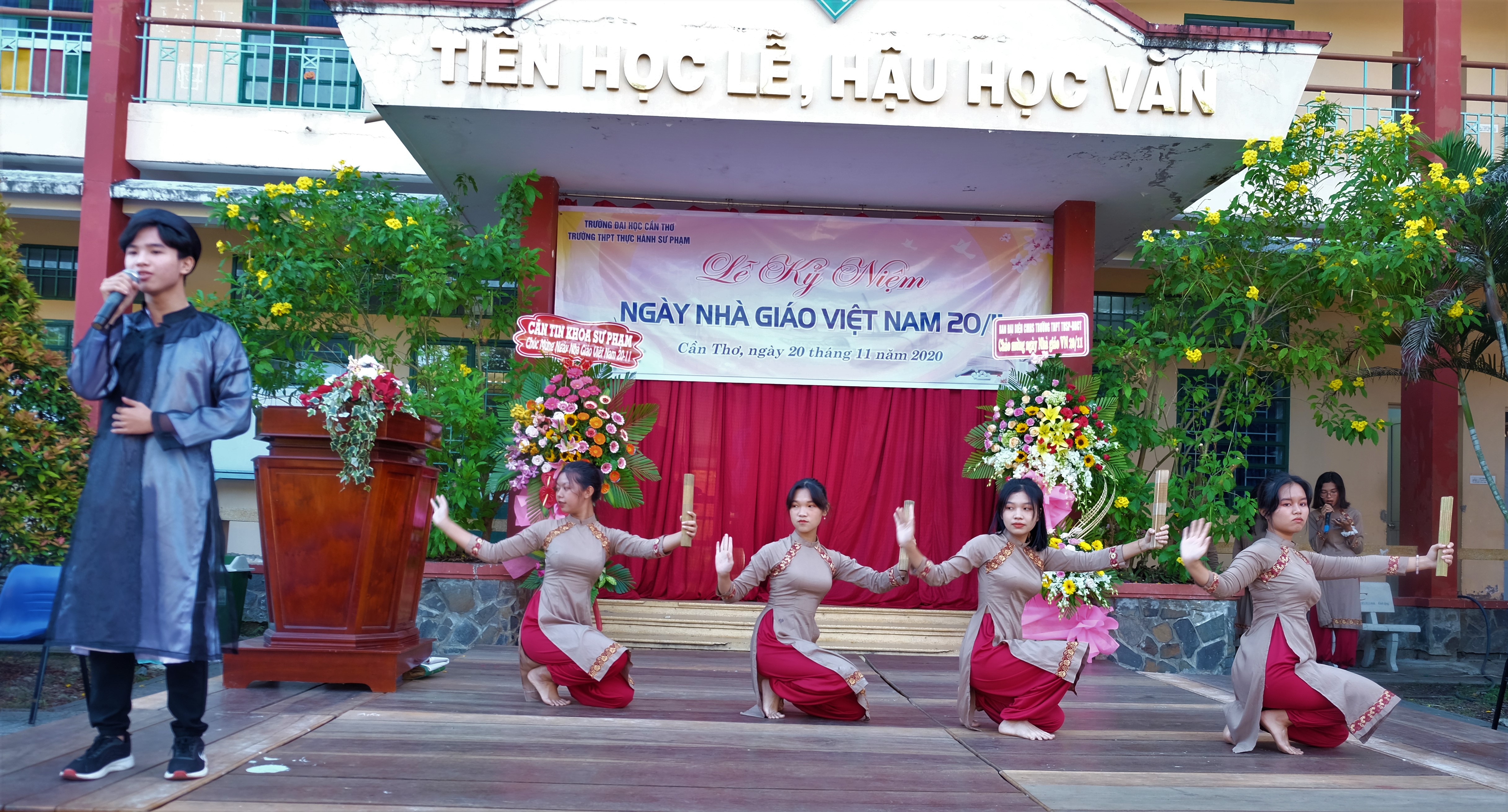 Entertainment section
The ceremony kicked off with a performance of the teaching interns and the school performance team.
Mr. Tran Van Minh, the school's principal, spoke about the meaning of November 20, thanked the teachers and encouraged the students to strive to study well in the upcoming exams.
In order to dedicate all the love of students to their teachers, the 12A2 girls team presented the school's teachers and teachers with the brightest, brightest red flowers and grateful wishes. , "Respect for the religion".
School teachers
Nguyen Pham Xuan Truc also made a few emotional statements about the teachers and the high school, as well as the feeling of the journey of sticking, studying with the dear teachers and friends under the roof of the high school. 3 years.
To celebrate November 20, the school delegation also organized academic and sports movements. Mr. Quan Van Ut approved a number of awards for the movements to celebrate November 20, including:
-The Flower Contest of 10: the whole school has 150 flowers, 10 points, the 10 best individuals will receive a certificate of merit and present VND 200,000. - Traditional volleyball competition:
+ First male: 11D1; First female: 12A2
+ Male runner-up: 11B1; Female runner-up: 12B2
+ Three men: 11A1; Three females: 12B1
+ Male style: 10B2: Female style: 10B1
+ Best Male: Tran Nguyen Quoc Huy 11D1
+ Best Female Award: Mai Gia Han 12A2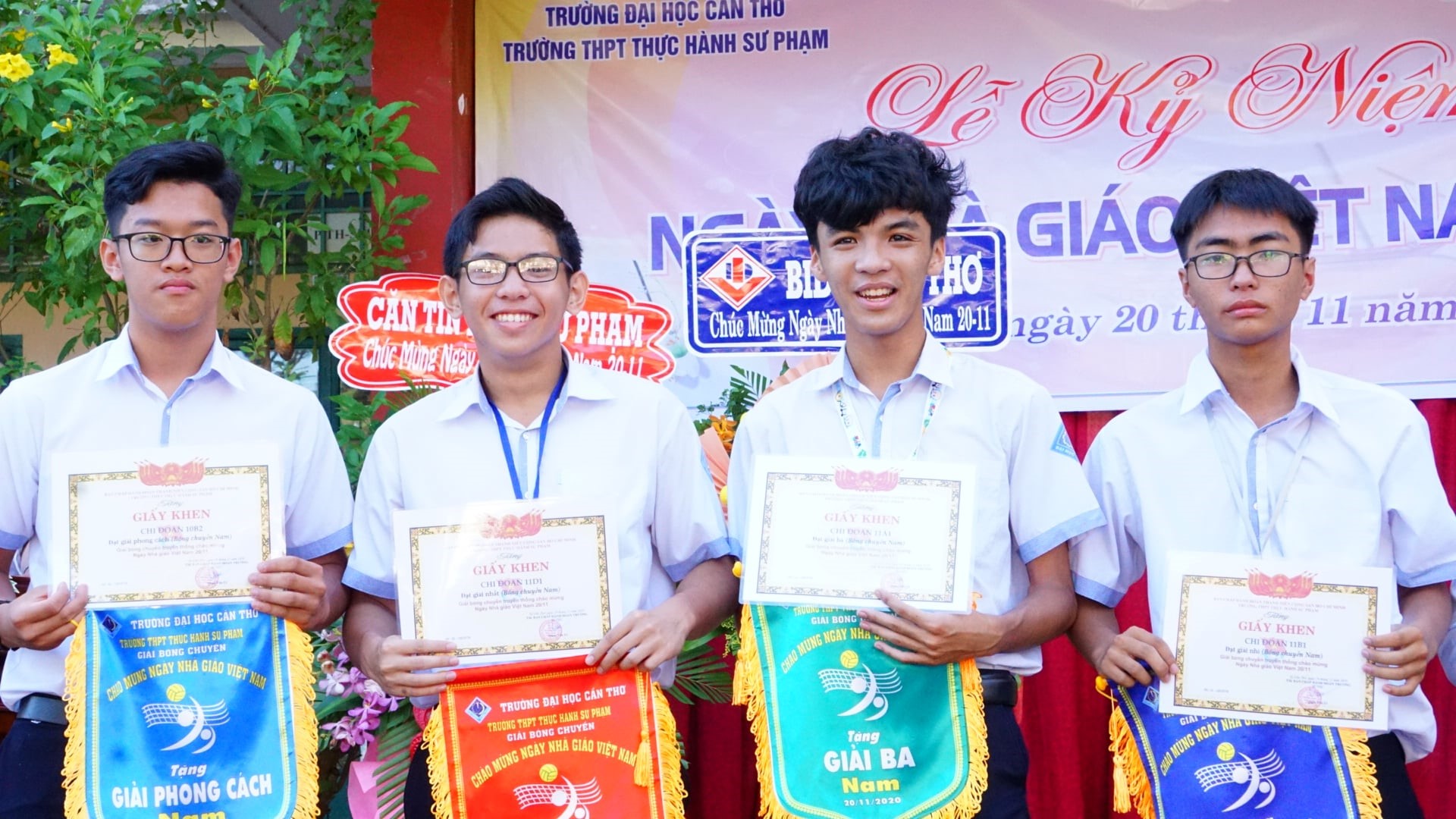 Volleyball winning classes
In addition, the pedagogical group also gave small gifts, but their hearts were filled with love to the teachers of the whole school and the whole school took together souvenir photos. Finally, in order to "hold the feet" of young people and teachers, teacher Le Tan Phong stirred the whole school with songs that had rained for a while. There were friends who ran up to him and gave him red flowers and hugged him to express gratitude and love for his dear teacher.  
In the end, we would like to wish all teachers in particular and the whole of THSP school in general will have many successes on the path of life ahead, always happy, healthy, happy, full of optimistic beliefs in life.